Hello, so I was not able to post a new entry yestreday because we had to wake up very early today in ofer to catch our flight to Shanghai. So, here it is.
Yesterday, after breakfast we went to the Great Wall. We were told about Mao Zhedong's quote that you are only a hero if you go to the Great Wall, and how they put it at the top for people to reach. However, since then they have reevaluated his meaning and put it at the bottom so people do not really need to go through the effort of climbing the wall to be a hero.
Before reaching the wall we stopped at a Jade Factory, where they had the carving masters that designed the medals for the olympics and were carving many amazing things. We also learned about the pishu which is a ledgendary lucky animal which is supposed to bring fortune and prosperity. There I bought a monkey necklace pendent.
Dispite this, I still really wanted to get to the top, since it would be much more fun to brag about than just going. Haha. It was very beautiful there, and the sky was clear and blue that day. Aly-Shah and I climbed all the way to the top. We were racing a little bit, and resting at the towers, it was very fun. Before the first and second tower there were a lot of people, but the climb to the second tower is very long with a lot of steps, so after that hardly anyone was in the way, so the pictures from then are nicer and it was a more relaxing (if not easier) climb.
I'm just going to post the pictures, since it's hard to think of things to say about the wall.
And then I reached the top.
Afterwards, we went for lunch. We went to the only large retuarant anywhere near the wall since it is government controlled, and they want the business. It is situated over a tourist gift shop and vase making factory. They serve a lot of food though, since they know that after the wall people tend to be hungry, and allow one free meat dish refill and one free veggie dish refill.
Then we headed outside of the Water Cube and Birdsnest from the Olympics to take pictures, and then headed off to see a kung-fu show.
The show was very good, and far cheaper than when it came to Canada. It was the story of the Birth of Kung-fu through a Warrior Monk named "The Pure One" and his journey to enlightenment and abbothood.
Dinner. And, an early bed for our early day at the airport.
Today I had to get up at 4:30 in order to meet the rest of the group at 5 to go to our flight. We arrived at 6, got our tickets to Shanghai, and then waited for our boarding time at 7:00, the flight left at 7:30.
At 7 o`clock, our gate changed from 29 to 44, and so we had to go through the terminal to reach it, luckily dueto the layout of the terminal, it was not very far and just down an escalater down the hall. We waited there for about half an hour, until we realized the rest of the passengers had disappeared. It turned out that the gate had been changed back to 29, and so we headed back. And then we waited. They were not allowing anyone on the plane, and after a while the plane left. Linda, a woman in out group who speaks fluent Mandarin and some of the other group members joined the other passengers to find out what was going on, it turned out there were some mechanical difficulties and no one could go on the plane.
At nine o`clock it was decided that we should take a plane to Hangzhou instead, and then take a bus over to Shanghai to meet our guide. And so after a while we were able to go and get our luggage and check in again. By 10 o`clock we had our luggage and were re-checking them in for our new flight to Hangzhou. We then heard that our old plane had been fixed and was leaving at 12:30, but we did not feel like changing our flight again. Our new flight left at 1:30 so we each went off for lunch. Went through security again, and then waited another hour until 1:00 to bourd our plane. At 1:35 we were let on and able to leave.
In Hangzhou, since we had been in contact with our tour guide in Beijing, our new tour guide was waiting, and he was as tired as we were since he too had had to wake up early, take a train to Shanghai from Hangzhou, wait for us, take a train back when he heard our flight had been cancelled, get the bus and come get us. In the end we ended up staying in Hangzhou and went to see a famous dance theatre show at a park which told different famous Chinese stories from Hangzhou. It was very, very good. Then we went for dinner.
Our hotel is really nice too, even the smoking things are engraved with its logo.
Anyways, I am tired now and it is nearly midnight so I'm just going to list the pictures with captions rather than find thier prper place in the text. Haha.
Thanks for reading!
Park with show entrance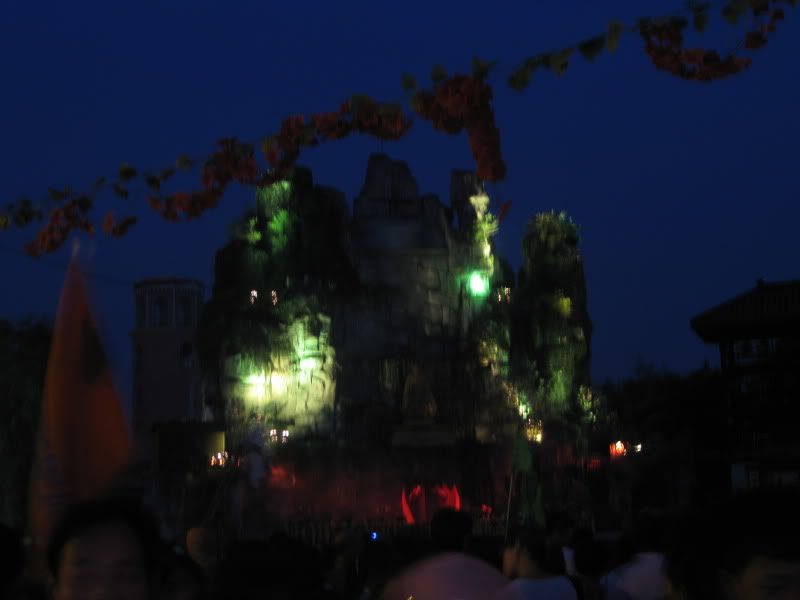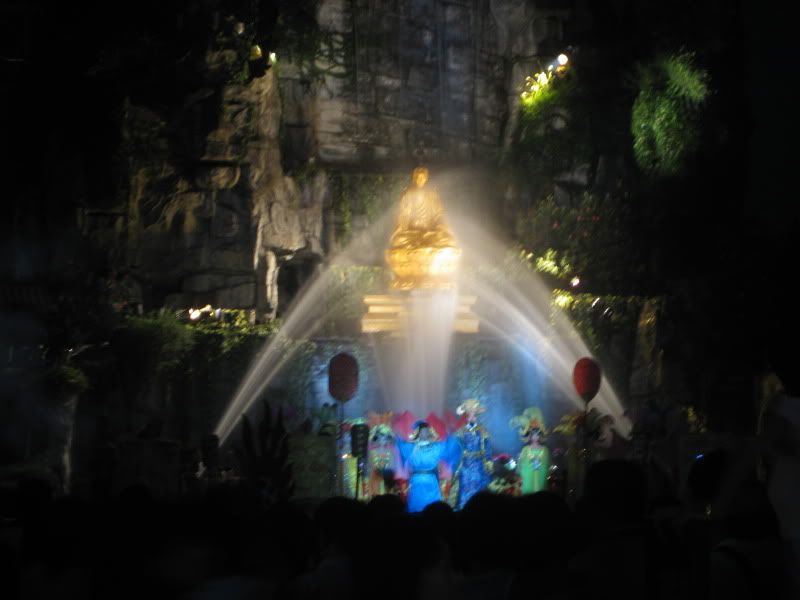 Interactive water show
Building with lights
Dinner, there were other dishes, but they came out later so I didn't get any pictures.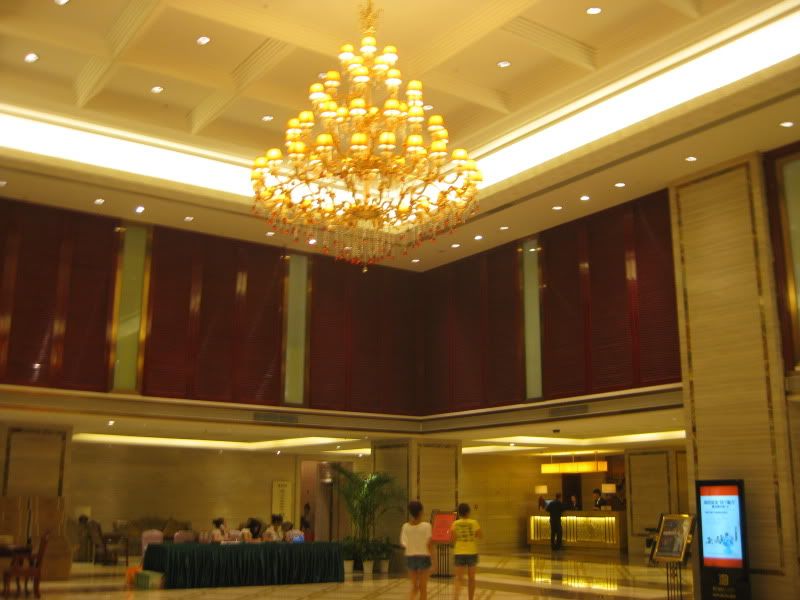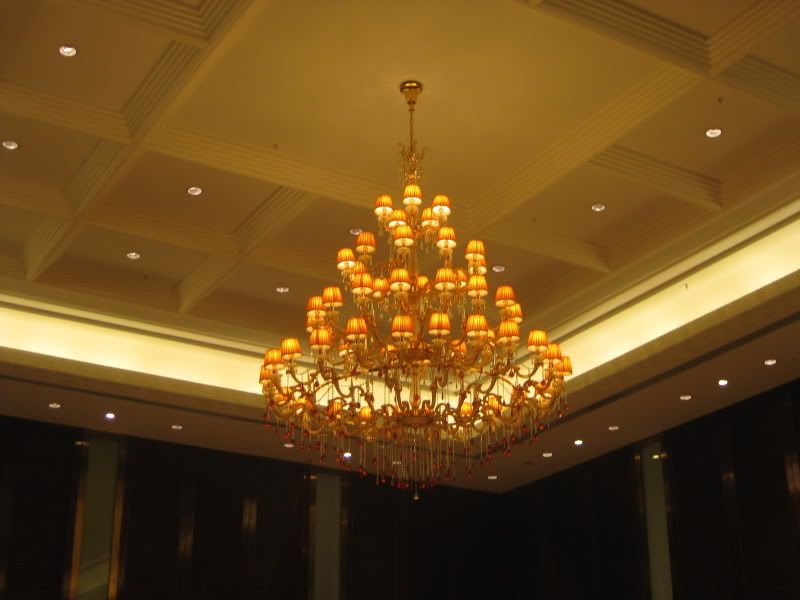 Nice hotel