(Click for larger pictures)
Hello,
The second day of my tour just ended, and as it turns out, our hotel has free internet so I am able to post an update of my trip so far. =) Starting from yesterday.
Yesterday was the first day of my trip along with Aly-Shah, her parents and the rest of our 旅游团。I woke up at 4:30, Aly-Shah got up shortly after, and shortly before we left to grab a taxi, I filled the bathroom with RAID and it ended up smelling horrible, but hopefully when we return the cockroaches will be dead. I did witness a fly fall victim from the fumes, so my hopes are high.
We caught a taxi just outside the gate, by 5:10 we were on our way to the airport. It took about an hour to get there, and our flight wasn't until 10:00, but we were worried about becoming lost so we decided it was best to get there really, really early. As it turned out, everything went smoothly so I bought a breakfast of noodle soup and sticky rice before we went through security. Afterwards, we still had some time so I used the airports internet for a while, but it was really slow, and ended up watching 喜洋洋 and a Chinese version of Wipeout on the television. Aly-Shah went to a teashop for breakfast and bought a tea, which as it turned out, was ridiculoussly large, and so she was not able to finish it.
| | |
| --- | --- |
| | |
Around 9:00 we headed over to our gate, and by 9:30 we got on the bus that took us to our plane. And then we waited... After a while, it was announced that the flight was going to be delayed twenty minues, and then another twenty, until an hour and a half had passed. It was not completely unexpected as before we had left we knew that a lot of flights were being delayed coming out of Hangzhou, likely due to the weather, but it was rather boring waiting.
Finally, at 11:30 our flight left for Beijing. As it happened, we had also booked an earlier flight than we thought would be necessary and arrived at 2:00, the same time as Aly-Shah's parents arrived and were able to head off with the rest of the group.
When we got to the hotel, we had a few hours of rest before an early dinner and then returned to the hotel. Aly-Shah and I walked ten minutes down to Caressfore (LIKE Wal-Mart) to buy water for the next day and spent a while looking at hats and key-chains and pianos. We came back to the hotel intending to go swimming, but we needed to have swimming caps so instead we just went to bed.
The room is very nice and large.
Today, I woke up at 6:30 and had breakfast at 7, by eight we were headed to the Forbidden City.
Before entering the city we walked through 天安门 and looked at the Arrow Gate and War Memorial and other sites there. And then we bagan to walk into the Forbidden City.
The Forbidden City is huge, only 1/3 of it is open to the public, and we only saw 1/3 of that, but it took us about two hours to walk through it. The main points of interest we saw there were the three palaces of Harmony, used for celebrations, preparation for celecbrations and imperial exams/senior parties if the Emporer lived to be eighty. The bedroom and study room of the Emperor and the Dowager Empress/Dragon Lady. The bedrooms of the cuncubines. We also saw the small garden they had filled with special rocks, and the many, many 四合院。 It was extremely interesting and fun to see how they lived there.
Afterwards, we headed off to lunch, (breakfast by the way was a buffet) and I proceeded to eat until stuffed again. The food was similar to that of Shanghai apparently since it was a little sweet. We also had Peiking duck there, which was very good.
We then went to the Summer Palace (颐和园) which was built during the Qing dynasty by the Manchurians, since they became bored with the Summer Palace as they were used to a more active lifestyle. Although far larger in area than the Forbidden City, the vast majority of the Palace it a man made lake, modeled after the West Lake in HangZhou. It was also where the Dragon Lady retired to. The lake is shaped as a peach to symbolize longevity and the walkway we went along was shaped like the nose piece on glasses to symbolize good luck because of her request. Also, the room in which she worked and met officials there was different from other buildings at the time because instead of the dragon (Emporer) statues being situated on the inside and pheonix (Empress) statues on the outside, they were switched.
This is a picture of a Buddist Temple there.
Hey Spencer and Connor: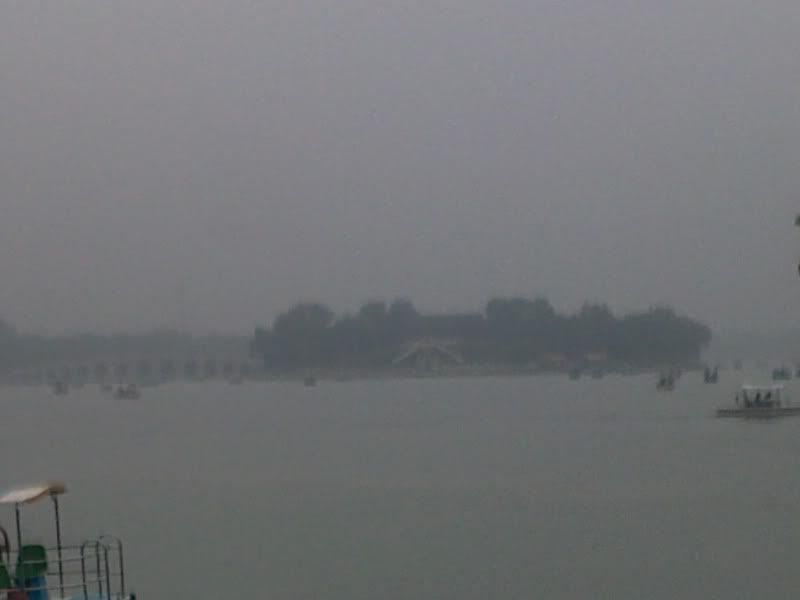 It's The Water Dragon Temple. =O
Getting to the Island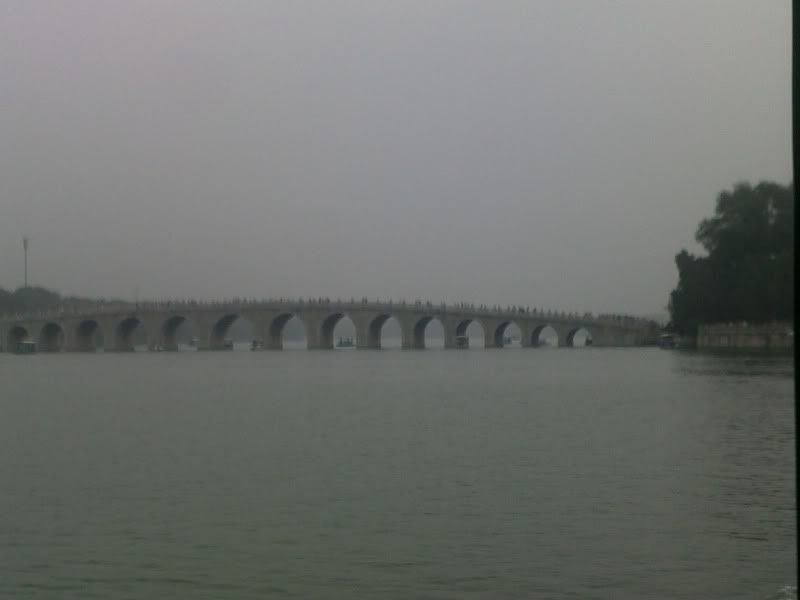 Bridge on the other side.
At the Summer Palace we walked along the lake and covered walkway, which was covered in unique paintings from painter's travels/flowers/depictions of famous tales, to the boat stop, which we then took across the shallow lake bad a little while down from where we had started and got back on the bus.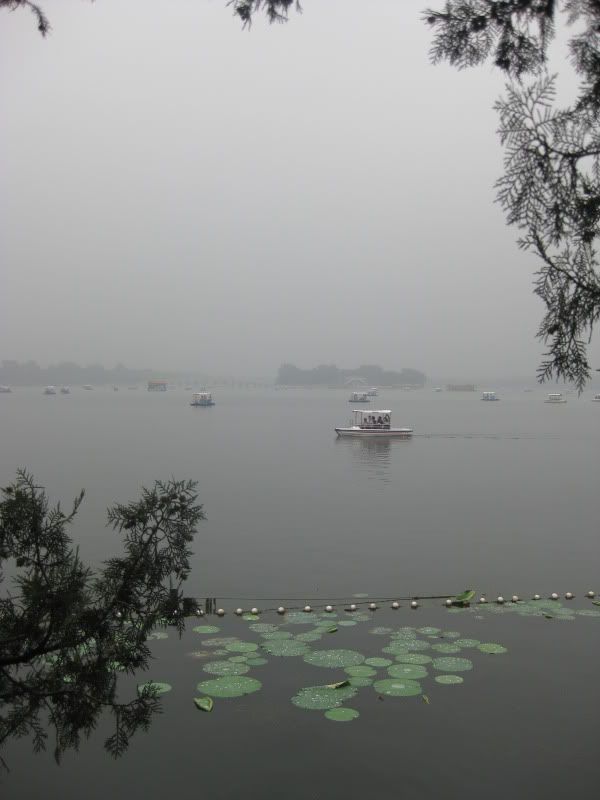 The Lake.
We headed to the Panda Zoo.
At the zoo, we saw pandas. Most of which were very lazy and either slept or ate. However, the Olympic panda, which they had brought to the Zoo for the Olympics, was extremely active! And very cute. It was extremely entertaining as it climbed all over the jungle gym in it's enclosure and swung on it's swing and kept nearly falling down/fell down through as it pranced from one area to the next. Our tour guide said that it was the first time she had ever seen a Panda do anything interesting, and that we were very lucky. =)
We then went on a 胡同tour through the old part of the city where people still lived in 四合院。Before entering a house you could tell the rank and job of a family was by how many steps they had to their front door, what shape of stones worked as door stops and how many beams were above the door. One family allowed tourists to visit their home as a source of income and we were able to see the layout from the inside. We also were allowed into some of the rooms to take a look at the structure and furniture.
Then we went for dinner. And, it was very good.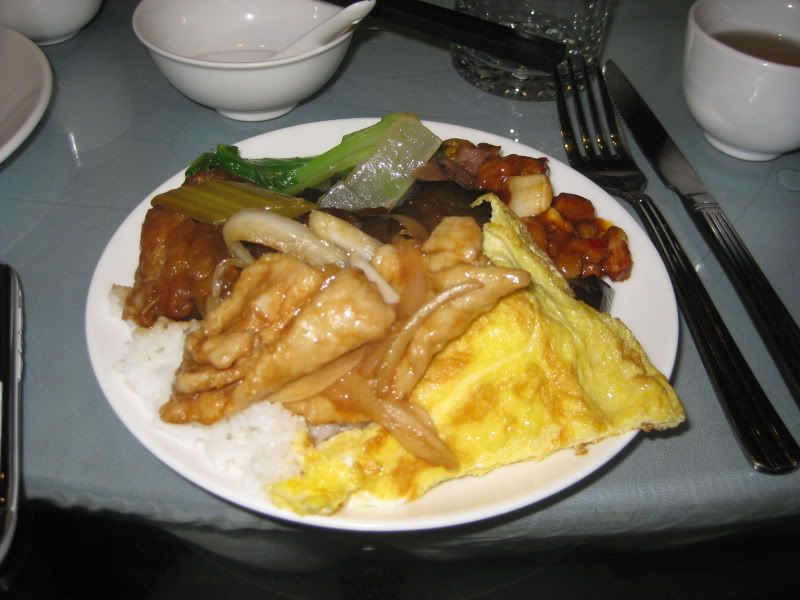 I took a picture of all the food. Rather, I took a little of all the dishes and piled it on my plate for a picture. =)
Before heading back to the hotel, we spent about a half hour at a night food market on the street, there they served foods like fried scorpion, centipeed, beetle, silk worms, along with deep fried cream, dumplings, bubble tea.
Aly-Shah had a 糖葫芦 and I bought a 'deep-fried banana/cream' but on the inside there was nothing but air. =(
I'm now back at the hotel, writing this. I hope to write a new update tomorrow!
Thanks for reading! =)